Why actually PADI?
Surely a valid question. Because there are a lot of diving associations and in the end it's the quality of the instructor that counts for the student. But not only: PADI has been a leader for decades when it comes to the development of training systems, teaching materials and continuing education opportunities for divers. And no organization supports its members (the instructors and dive centers) with such comprehensive and thoughtful materials. So there are many good reasons why PADI has been #1 in the diving market for decades…. And because sometimes pictures say much more than words here is a little video:
PADI is the world's largest diver training organization.
And that's no coincidence. PADI has been at the forefront of diver education for nearly 50 years with its innovative and modern training system. The system allows divers to learn in the way that suits them best, with many media for self-study, through online learning or in instructor-led classes. With nearly one million certifications each year and a remarkable safety record, it's no surprise that PADI is the number one choice for divers worldwide.
PADI has high quality standards.
PADI has been instrumental in the development of European standards and ISO recognition for diving, and plays a leading role in international organizations such as the Recreational Scuba Training Council. At the local level, PADI also works tirelessly to improve diver safety, promote environmentally responsible practices and attract new divers to the sport.
PADI is international.
The PADI name is recognized around the world and PADI diving certifications are accepted and respected in over 180 countries. PADI divers can be confident that they will be recognized and welcomed wherever they travel. And PADI Instructors find exciting professional challenges around the world.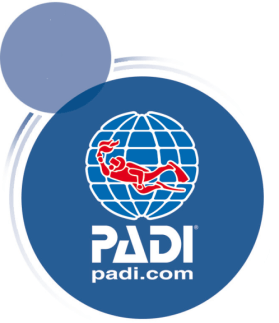 PADI is a community.
With more dive centers and instructors than any other dive training organization in the world, PADI offers more courses for divers, more vacation fun, adventures and experiences for divers to participate in. That means better job opportunities for PADI instructors and more opportunities for PADI divers. And with ScubaEarth™, PADI's new comprehensive diving website, PADI has created a social media tool where PADI pros and PADI divers can meet and share.
Professional quality
Just as recreational divers must earn their PADI certification, PADI Instructors must go through a training program that has set the standard for instructor training in the industry. Each new PADI Instructor has a thorough knowledge of the PADI System and conducts PADI programs according to certain unified criteria. Instructor candidates are screened by what are known as PADI Instructor Examiners. This ensures that the assessment process is objective, fair and consistent worldwide.
PADI is excellent!
Every year, divers and readers of Tauchen magazine vote for their favorites in 17 categories, and PADI is the only company to have won first place every year (without interruption!) since the award was initiated. The prestigious diving awards were presented on January 30, 2016 at BOOT in Düsseldorf, Germany. PADI won the coveted Bronze Dolphin, leaving the other two nominated organizations SSI and VDST far behind.